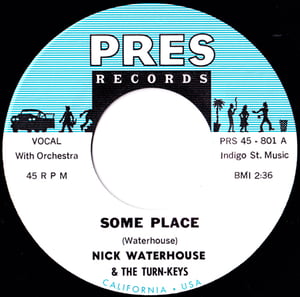 $

7.00
The self-produced debut of Waterhouse, backed by the Turn-Keys, will surely take you some place you'd rather be. Recorded to magnetic tape, engineered by Mike McHugh, and mastered straight to MONO on the Gold Star studios lathe, it further cements what some are calling the "Santa Ana Delta Sound" -- a raw, rhythmic sound unique to Southern California and it's Distillery Studio.
The wild R&B abandon of the horn driven A side will get feet moving and drinks clattering, while "That Place", the eerie R&B rhumba found on the flip, will keep your neighbors up all night.
This debut from the singer and producer has been drawing comparisons to Cobra, Excello, and Sun recordings of yesteryear with a contemporary twist. Don't miss out on this limited pressing, the first from Pres!