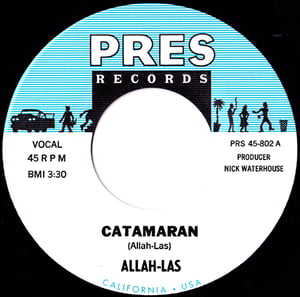 $

7.00
FIRST PRESSING SOLD OUT
Greil Marcus liked to refer back to "The Old, Weird America" when discussing a certain, famous set of recordings that emanated from a Woodstock cabin basement.
ALLAH-LAS sound like the Old, Weird Los Angeles: Strains of true surfing music, American harmonies, Sunset Strip backbeat, desert ramble filtered through Goldstar Sessioneers; That pre-fuzz pedal 'electrified folk' music and pop groups hitting the California sound with the tambourine on just the right beat. This group sounds like bungalows in canyons; hidden deco stairsteps peeking from leafy hillsides; kustom kars and dovetails and chicks in OP shorts with long, long hair, like a Dennis Hopper photo come to life. You look at their well worn Fender guitars, their real surfer tans, their dusty suede boots - and you see it's a sound natural to them; This isn't an act.
Produced by Nick Waterhouse to the same established standards as Pres #801, this second release from the label brings these Californian newcomers to the attention of the discerning listener. Pres Records is proud to present the recording debut of Allah-Las.